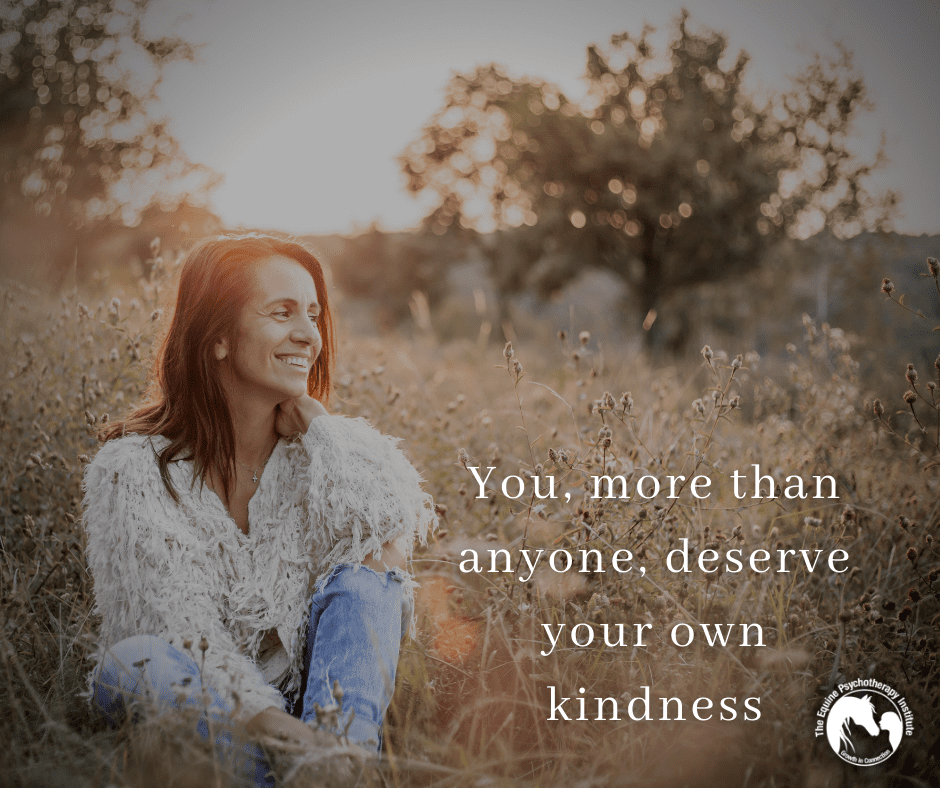 What does it mean to be kind to yourself and others?
Some people fear that being kind means agreeing with or liking something, so they struggle to find the capacity to accept and be kind to self-experience and others.
I believe it is important to be kind to our experience, because its already here! We can fight, struggle, try to control it or notice, accept, welcome and be kind to it.
This choice to judge, struggle and fight or notice, accept and welcome our experience shapes our lives, our feelings, our minds, our relationships and the life we 'create' for ourselves.
We may not like or enjoy our experience of fear, confusion, anger, sadness, or sensations in the body of disturbance, however, the invitation is to notice 'what is,' to turn towards the experience.
This allows it to do a couple of important things.
Firstly, it can allow our experience to be felt fully, expressed, and recede naturally after being integrated. This supports self-regulation and a deeper connection with our-selves.
Secondly, our experience is a door-way into our experiential truth and patterns of thinking, believing or behaving – some of which may in fact be un-helpful or no-longer serving us well.
So now, after turning towards our experience, we have more information, more awareness, more choice, and can move into action with responsiveness, rather than reactivity.
Once we notice our experience, we now have an opportunity to be kind to it!
What would it be like to say: "Hello anger, I don't like you very much, but you are here, so I will be kind to you!"
This welcoming approach and kindness to self-experience is such a big part of self-care. Because the kindness brings in so much potential for softening, loving and connection with yourself on a much deeper, more intimate level.
When we practice kindness to self-experience, we can begin to practice loving ourselves, in all of our humanness. This sets strong foundations for self-care practices that are more than a 'to do' list.
Yes, it is so important to have a balance of the following:
Sleep Well: regular hours each night that replenish you (probably 7-9 hours for most)
Eat Good Food: food that has nutritional value!
Play Time: using your mind and body to express, be creative and free
Movement and Physical Activity: regular walking, gym, yoga or sport
Focusing time: focused, purposeful and meaningful 'doing'
Relational and Social Activities: engaging with loved ones and community
Nature-based Connection: being close to gardens, forest, bush, ocean, animals, land, country, planets
Regulating our Nervous System – monitoring and modifying your regulation
Down Time: being present, aware, just 'being', meditation, mindfulness – the down time that we need requires slowing, pausing, being and doing nothing!
Many of us engage in awareness, mindfulness and being practices with our horses, animals and in nature because it brings so much benefit to our nervous systems, physiology, body, feelings and mind. Our minds start to slow down, and awareness and presence start to arrive, among a whole host of other benefits that have been well researched.
Those of us who are trained in equine assisted psychotherapy and equine assisted learning, intentionally practice awareness and presence with horses due to the immense therapeutic benefit, and holistic and spiritual deepening that happens.
Kindness extends our awareness and 'down time' practice to promote a deeper self-care. The kindness we bring is not just in our minds, "I want to be kind to you, confusion." but, a felt-sense kindness that you can bring to your feeling of confusion.
This felt-sense kindness requires slowing, breathing, pausing, softening, feeling and opening our heart to ourselves – holding space for our experience, just as we would hold a newborn baby, with love, care and softness.
Some people find it more challenging to bring this awareness and kindness to themselves, and some people struggle to bring this mindfulness and kindness practice to others.
What do you notice about yourself?
How much time do you spend thinking about others behaviours, judging, analysing, criticising, blaming or punishing others with your thoughts or actions?
How much time do you spend bringing a clear mind, acceptance and even kindness to others, even when you may disagree or dislike some of their behaviours?
How much time do you spend thinking about yourself, judging, criticising, commenting, monitoringand shaming yourself?
How much time do you spend being caring, kind, supportive and patient with yourself?
What would change for you if you had more compassion for yourself and others?
When we bring loving kindness into our lives we have the capacity to hold ourselves and others in a warm-hearted and comfortable way. We wish ourselves and others well. When we bring compassionate practices into our lives, we start to focus on freeing ourselves and others from unnecessary suffering, and recognise the common humanity of our experience.
We let go of needing to control, change and struggle with ourselves and others, and move towards greater acceptance, clarity, gentleness and empathy. Our awareness and clarity supports our expression of healthy boundaries, stepping into relationships that are nourishing, and sometimes stepping away from relationships that are not serving us well.
Compassion practices support us to:
See mistakes as opportunities
Take more responsibility for our own actions
Have less need to judge and control others and more capacity to let others be free to have their own life journey
We support our own and others hurt
Have a deeper self-acceptance
Be less afraid of risks, of life, of rejection
We accept painful experiences with softness and kindness
Have less perfectionism, suppression, intellectualisation and rumination, judgement, self-criticism, anxiety and depression
Have greater life satisfaction
Have greater emotional intelligence
Have deeper social connection
Personally, self-care is so important to me. I need to attend to it regularly because I am by nature a very focused and passionate person! My journey towards more awareness, presence, kindness and compassion has become a strong foundation for the way I relate to my daughters, husband, family, inter-species-family, friends, colleagues, students and wider community – even when we have differences and disagree!
Thanks for reading, and feel free to reach out and share your journey with self-care, kindness and compassion.
Meg Kirby
The Equine Psychotherapy Institute